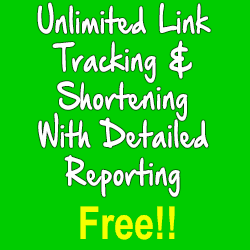 1- Make A Free Account

2- Click "Tracking Links & Stats"
on the left, and then "New Campaign"




3- Name your campaign
4- Add your Affiliate URL to "Destination"
5- Click "Create Campaign"
(Yes, there are upgrades available here too.
Yes, I definitely recommend them,
but the free version works too!)

6- Grab Your Link- Click "Copy"


YOU NOW HAVE
A PERPETUAL LEAD MACHINE!
That link will now promote YOUR affiliate link... To a growing, viral number of leads...
in DIFFERENT WAYS!
(as a pop under, an interstitial, and by email!)


Your Information is 100% Secure And Will Never Be Shared With Anyone.